Click HERE to check out my previous article for sneak pics of The Tandem.
TANDEM: 2 pilots control next generation multi-copter?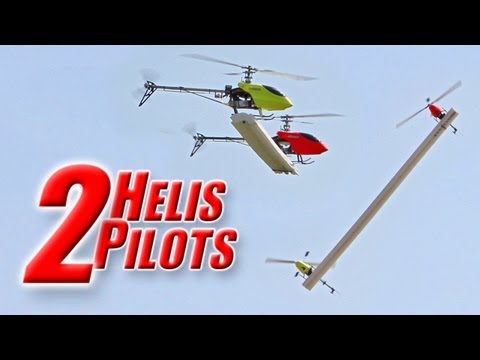 Two T-Rex 450 remote-control helicopters are strapped to a special kind of board and controlled by 2 pilots. This Tandem works a bit like a multi-copter: The aileron function is realized by different blade pitch angles of the two helis while yaw is achieved by applying different elevator inputs. The pilots therefore need to act as a perfect team with to-the-point communication. The one thing which made this experiment quite challenging was the simple fact that such a construction had never been piloted before and no-one knew what flying it was like. The other thing is of technical nature: Unlike with multi-copters the rotors of both helis turn in the same direction. This is why the whole construction had a natural tendency to pirouette; in the beginning this caught us a bit by surprise but we managed to control it later on.
Check out our facebook page for more detailed explanations here:
https://www.facebook.com/media/set/?s…
SUBSCRIBE NOW to NEVER MISS our latest cutting-edge heli stunts:
http://www.youtube.com/subscription_c…
Check out our channel with tons of HIGH-QUALITY content (no waah-waah videos!):
http://www.youtube.com/user/heligraphix
MEET and LIKE us on facebook – know what's going on behind the scenes before everyone else!
http://www.facebook.com/heligraphix
You are a connoisseur? That's greaaat!!! Because here's the best ever playlist for you!
http://www.youtube.com/playlist?list=…
Not satisfied yet?! We have an insane 10+ year legacy you'll just love here:
http://www.heligraphix.com