Here is an exciting video showing Team SpinBlades presence at Rotor Live 2012. Marc Trautmann, CEO of SpinBlades, shared this video with us. Thanks Marc.
Watching the variety of 3D rc helicopters was exciting to see, but what topped it all off for me was seeing the Lama Turbine in the middle of all the action.
Check out the vid for yourself and see all the exciting flight demo put on Team SpinBlades as well as information for each of their helis.
Setups and Machines:
1. Matt Finke Henseleit TDR, SpinBlades matt black 700, Kontronik Motor and Esc, SLS 12S4500 APL Serie, V-Bar;
2. Florian Otzmann Shape S8, SpinBlades matt black 800,Kontronik Motor and Esc, beastx;
3. Bernd Pöting,Heli-factory Lama,SpinBlades matt black scale 1050, 25 Kg weight and 2,5 m rotordisc;
4. Dario Neuenschwander MSH Protos 500, SpinBlades 435 3D, Scorpion Motor and 6S 2300;
5. TC (Timo Cürlis)TSA Infusion 90, SpinBlades matt black 700, Beastx, OS MAX 91 HZ-R,
6. Simon vom Baur TSA Infusion 90, SpinBlades matt black 700, Beastx, OS MAX 91 HZ-R, Graupner Hott
Rotor Live 2012 | Team SpinBlades Demo in Germany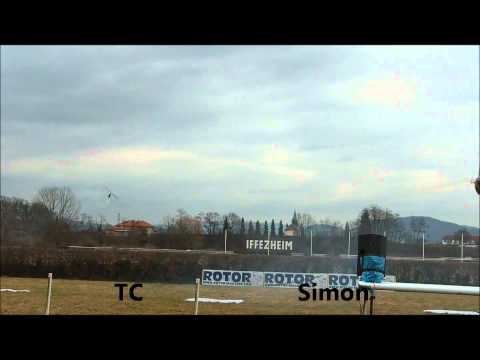 Source: Team SpinBlades via Marc Trautmann