Demo BELL turbine JF Cance / Remi Epron Sympo evasion 78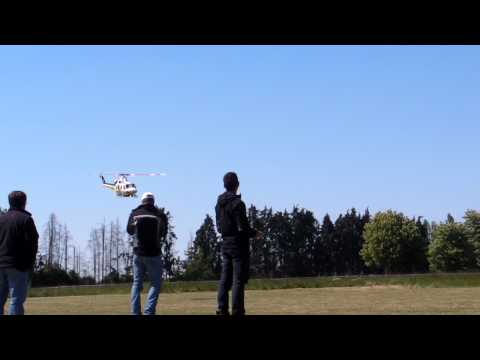 RPM Aérotechnique:
Remi Epron, freelance commercial pilot.
My first experience of flying helicopter r / c back to the beginning of 1991, when I buy one of the first Japanese machines in series, the Concept 30. In subsequent years I make progress and improve my technique as an amateur. Then I go to Germany, England and the U.S. to get training from professional competition circuit, and drivers specialized in R & D. I start the 3D aerobatics in 1995. From 1995 to 2000, I mean even further and become semi-pro, I'm just part of the pilot plant Robbe / Schluter Millennium on 60 & 90. I then also sponsored by Webra, NHP, CSM, and other equipment. In 2000 I go pro and I live full time my passion for helicopters since then. I train professional and amateur to master the techniques of piloting and development. In 2005 I co-opted by Flying-Cam, the world leader in Shooting close by helicopter r / c for over two decades. I has been operating as a freelance pilot for the Flying-Cam with productions of film, advertising, and television documentaries, on five continents. In addition to filming, I build and includes helicopter models tailored for clients wishing to acquire turnkey models. Generally in the category of 2.50m to 2m diameter rotor, they are almost always powered turbine. To date, I suggest shooting, consultancy / construction and training, 365 days a year.
Bell 412 L.A. County Fire Dept.
Specifications
-Cell: Bell 412, Vario
-Scale 1:5.6
-Rotor Diameter: 2m45
-Rotor head: quadripale Jung, modified
-Blades: Aluminum, Viper-X76
-Turbine: Jakadofsky Pro 5000
-RPM: 890 RPM
-Weight-takeoff : 23Kg
-Board Electronics: Futaba, & PowerBox EMCOTEC
-Stabilization: CGY750 V1.20
-beam tail removable
-water tank-functional
Click HERE to browse through other helis from RPM.
Click HERE to learn about CRAF.
Click HERE for information on pilot instruction.
Click HERE to contact RPM-Aerotechinque.
Source: Remi Epron via Bruno Bosso