http://www.youtube.com/watch?v=Qg_Cc_aYNQI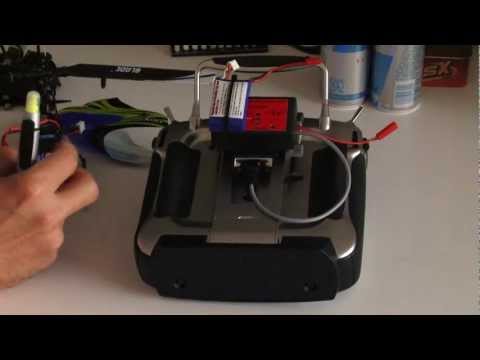 Normally, you cant fly the micro helis from Blade with a Futaba TX. You would need to buy a Spektrum or JR TX. There is a German Manufacturer that produces an add on modules for allowing a Futaba TX to bind to a Spectrum RX. In this video I show how to bind correctly with a Futaba T18MZ. The battery for the module is needed as the T18MZ does not give out enough power on the Trainer port.
Schnellwechselsystem: http://www.schnellwechselsystem.com
Required Modul for Futaba: http://schnellwechselsystem.com/artikeldetails.php5?z=3&kat=EASY-BNF~Futa…
Process of obtaining a module:
1) You need to order the version required
2) You need to send in a DX4 or DX5. They will extract the transmitter module from that and create the tiny module that can be attached to your transmitter
Back in the earlier times there was a spectrum module from Horizon available for attaching to the Futaba TX but lots of sources repeatedly confirmed problems and very long latency. This is why I wanted to try out the system explained here and I have had zero problems whatsoever with flying my micro blades with my T18MZ. Highly recommended when you don't want to carry around 2 TX'es.
Source: Locoracers