Airskipper E8 with 伊藤 寛規(Hiroki Ito)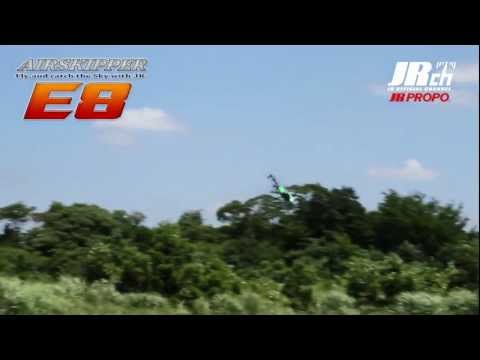 LiPo 8-cell type High performance AirSkipper E8.
This is the 50 sized helicopter with the special electric powered type frames, based on AirSkipper 50 type 2.
Standard model "E8″, Pro model using high performance optional parts selected by top JR flyers "E8 PRO", Flybarless model E8 Pro modified type " E8 FBL". 3 line-up models are prepared for you.
Please enjoy this video with the flight by Mr. Hiroki Ito, 3D Japan Grand Prix Champion as well as the consecutive champion of F3C World Championship and F3C Japan National Championship.
Please refer to the following information to upgrade your AirSkipper E8 to 12-cell type. (for the very experienced flyers only)
■ Upgrade Airskipper E8 to 12-cell type. (only for the very experienced flyers)
http://www.jrpropo.co.jp/jpn/news/contents.php?no=828
Source: JRPROPOTV