HD Goblin and Low RPM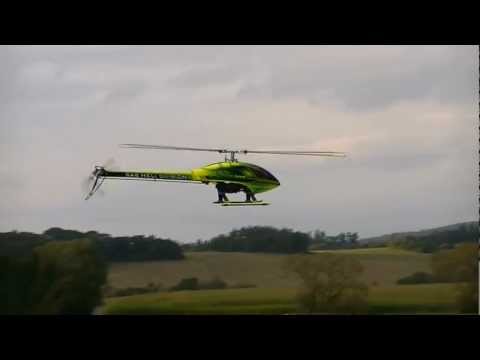 Here is exclusive info from Phillip regarding his heli.
Everyone seems to only think Goblins are only good at high RPM hardcore 3d, but a bone stock 700 can be flown with just 6S @ 1200-1100RPM just fine 😀 The head wobble range is between approximately 1400-1650RPM, below the heli flies just fine again.
The heli in the Video has a X-Era Goblin edition 500KV motor, Heli Jive 120HV, AR7200BX and Torq Servos and a 6S Turningy 4500mAH 30C Lipo. The main blades are MS Composit Rapid 710mm, the tail stock Goblin kit SAB tail blades. I use the Kontronik jives internal BEC and a Spektrum DX8.
Flying time about 6 minutes for about 2500mAh used.
That was one of the first trials of flying low RPM and i had setup the throttle curves for three different speeds but hadn't realized that my normal pitch curve was only -6° / 0 / +12° because i usually only use it for spool up. That made for some head scratching as to why the heli didn't climb inverted until i switched to flight mode 1 where i had -12 / 0 / +12 😉
Source: Phillip Artweger