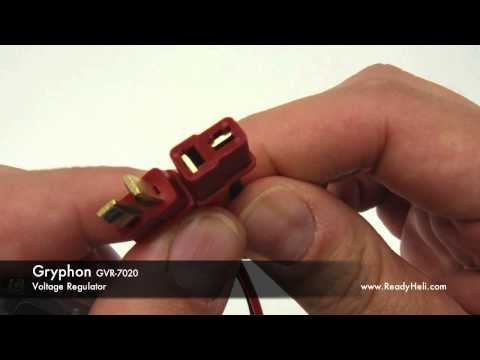 Available in both Black or Silver with Hyper White LED's
The Gryphon Extreme-Heli regulator is a dual linear regulator consisting of hybrid components with a very strong power supply bus. The Gryphon is a high-end regulator designed to easily handle the heaviest 3D or F3C/FAI flying in the most brutal conditions.
Overview:
The Gryphon regulator is designed for the most demanding applications. The massive integrated heatsink allows the user to mount it in areas with very low airflow without consequence. The power bus feature distributes power uniformly among all servo channels while also providing complete noise filtering between each channel. Thoroughly tested and proven, this regulator is not only able to compete with the very BEST regulators out there, it completely dominates. The icing on the cake is that it just happens to look real good doing its job ;]
Specs:
– Input voltage: 6 to 10 Volts (5-8 cell NiCd/NiMH or 2cell LiFe/LiPo)
– Output voltage:
— Servo Channel: 5.2V, 6.0V, 6.8V, 7.4V, 8.4V (Unregulated)
— RX channel: 5A (Max 10A)
– Output current:
— Servo Channel: 10A (Max 15A @ 6.0V)
— RX Channel: 5A (Max 10A)
– Low Voltage Alarm Setup: LiFe type (6.5V), LiPo type (7.3V), User selectable.
– Switch Type: Fail save (Fail-Safe-On) Pin-Flag contact-less type
– Power Connector Type: Deans
– Size: 17mm x 40mm x 64mm (HxWxL)
– Weight: 45g (excluding cables)
Setup:
Output voltage is user selectable from 5.2V, 6.0V, 6.8V, 7.4V, up to 8.4V unregulated. These options are selectable using four-stage DIP switch on the bottom of the unit.
Low Voltage alarm circuit is integrated into the unit. It is user selectable on/off for safety and convenience. According to the type of battery, alarm voltage can be established (LiFe or LiPo).
Purchase the Gryphon GVR-7020 Voltage Regulator at:
ReadyHeli.com
Source: ReadyHeli