Here is more insight as to the capabilities of the Blade 350 QX. Watch as the different flight modes are demonstrated. Enjoy the vid everyone.
Blade 350 QX Flight Modes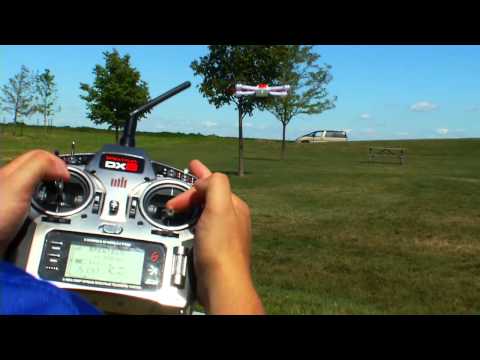 Take a closer look at the 3 flight modes of the Blade® 350 QX
Blade® 350 QX
GoPro® Compatible Quadcopter
Gain a whole new perspective on the radio control flight experience using this easy to operate aerial video platform.
Engineered With SAFE™ Technology
SAFE™ (Sensor Assisted Flight Envelope) technology is a revolutionary electronic flight envelope protection system. It also offers smoother flight capability that battles windy conditions for you and multiple modes so you can fly with the level of protection and assistance that suits any given moment of the flight.
MODES:
Smart Mode
GPS/Altitude Hold, SAFE Circle™ feature and Stick Relativity. Perfect for novice pilots.
Stability Mode
Limited flight envelope, self-leveling and optional GPS Hold. Ideal for video capture.
Agility Mode
Aerobatic performance with AS3X™ flight characteristics and unlimited flight envelope. For experienced pilots only.
FEATURES:
SAFE Circle™
Never worry about flying too close to yourself with this invisible pilot barrier (Smart Mode only).
Stick Relativity
Move the cyclic stick on the transmitter right or left, and the 350 QX will move right or left relative to the pilot regardless of which way it's pointing.
GPS & Altimeter Technology
Keeps the 350 QX in a stable hover position for seamless video capture.
Return Home
Flip a switch and the 350 QX will automatically return to where its motors were started.
GoPro® Compatible
The 350 QX has more than enough power to carry a GoPro camera*. An anti-vibration camera mount** is included with purchase. (Prototype camera mount shown. Actual product may vary.)
(*Camera not included. **Designed for use with GOPRO® products. GOPRO® is a registered trademark of Woodman Labs, Inc. in the United States and other countries.)
===============
RTF Price: $469.99
BNF Price: $419.99
===============
Ready-to-Fly out of the box with a Spektrum™ DX5E transmitter, 3S 2200mAh LiPo
battery and charger
Bind-N-Fly Option Available
Coming this Fall to a Horizon Hobby Dealer near you!