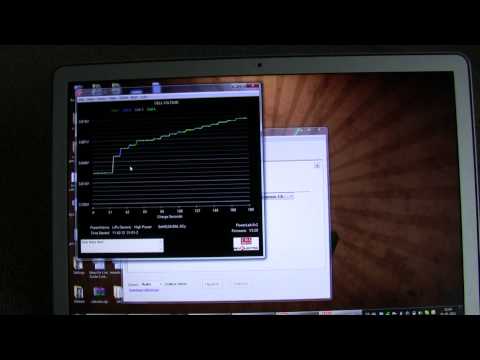 Parallel charging seems to be a hot topic in many of the forums lately. The advantage of parallel charging is that you can charge several LiPo packs at at the same time at a 1C rate which is usually recommended for the longest cell life. For instance if you connect 3x6S 5000mah LiPos for parallel charging, you can set the charger to run at 15 amps and those 3 packs will charge at the 1C rate in about the same time as if you were to charge one pack individually. If your packs are capable of being charged at a higher C rating you could also increase the charge amperage if you choose since the PowerLab 8 is capable of up to 40 amps output with the proper power supply.
Revolectrix has released balancing boards that can be "daisy chained" for safe parallel charging of LiPos with their Cellpro Powerlab 8 Charger. The nice thing about the new boards is that if something is wrong with the connection the color of the resistor on the board changes to alert you of a potential problem. Parallel charging can be done with different capacity LiPo packs as long as the cell count matches. For instance you can parallel charge 4x6s packs that are 1200mah, 2200mah, 3300mah and 3700mah all at the same time. The charger will charge it as 1 large pack and each will be balanced the same as if they were charging separately.
It should be noted that pack voltages should be in the same voltage range when connected to the charger and balance boards so large current transfers don't occur upon connection thus damaging the packs. In other words you wouldn't want to connect a fully charged pack and a 50% charged pack for parallel charging. It's best to probably keep the difference in charges on packs to be parallel charged below .2 volts. Do your research and be sure to practice safe charging whether you are parallel charging or charging a single pack. Read the manual that comes with the charger to insure that you have the proper connectors and have set the charger up properly.
A wonderful web resource for Parallel Charging information as well as other RC electronic info is TJinTech's Parallel Charging How-To. The TJinTech Parallel Charging page covers Parallel Charging with any brand of charger and has lots of helpful information on different brands of balance boards and cabling. Check out the forums, TJinTech's web site and the Revolectrix web site to see if parallel charging is for you.
CellPro PowerLab 8 2S through 6S Parallel Charger Adapter Part Numbers:
CPS8S-TPPQ6S-PAR for TP/PQ style balance taps
CP8S-GPKO6S-PAR for JST style balance taps
Sources: FlashForum, Revolectrix, TJinTech