This is a cool heli flown by Jaime Mckeen. It is a turbine powered Synergy N9 with OptiSmoke. Continue on to view the vid and get some info on the heli.

Synergy Turbine With OptiSmoke
For the past year or so I've had the pleasure and priviledge of building, testing and flying a club mates Synergy N9 powered by a Wren44 turbine. It's been a steep learning curve both in onstallation, setup, maintenance, and a different smoother flying style.
At Charmouth in October I was chatting with Andy from OptiFuel about various things and the subject of heli smoke systems came up. He was saying he doesn't think it would work well on a nitro due to the much lower exhaust temperatures, but knowing the owner of the turbine N9, I knew it was a bit of him to try it out on that! One phone call later to him and it was agreed; we would work out how to do it, and we would get it working come what may.
After lot's of reasearch and phone calls, we settled on a wren turbine fuel pump as the smoke oil pump, powered by a (massively overkill!) 25a brushed speed controller. The physical instalation was a bit of a challenge, but not too bad. The pump was mounted in the middle of the frames underneath the tanks, and the esc hidden under a tank strap. The pump feeds the OptiSmoke in to a stainless steel tube in to each side of the turbine exhaust housing, which just sprays the fluid directly on to the inside walls of the exhaust.
We tested it under the cover of darkness (as no-one at the club knew we were working on it and wanted to debut it as a surprise at todays bonfire/BBQ/Night flying do) just to test the thoery actually worked, which it did, very very well! Today we flew it, and after a slight bit of fiddling with the pump rate, we had it working a treat Anyway, enough waffle, see the video below which says it all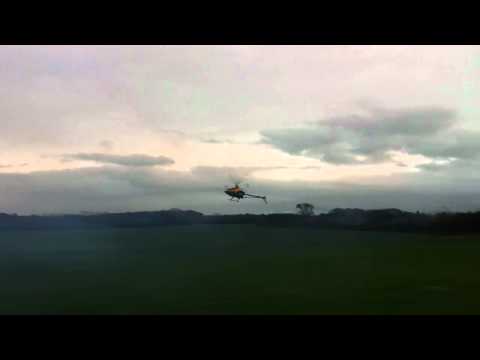 Source: Jaime Mckeen