TAI SHIH HOBBY CORPORATION ( TSHobby GAUI ) was established in Taiwan in 1996, and dedicated itself fully into design, develop, and manufacturing of innovative R/C helicopters and airplanes. With years of research and development, TSH GAUI developed well plastic coated form technology applicable to wings, fins, and rotors. Gaui has produced a wide range of products over the years starting with the Shogun 400 back in 2002 to their newest arrival,the Gaui X5, in 2010.
Empire Hobbies and Jack Burnside have been kind enough to send us a kit so we could do a review for our readers to showcase this new model that has just recently been introduced. Jack has been a great help through the entire process and Empire Hobbies support has been outstanding.
So for starters I will list all components used in the review along with their retail price to help establish a baseline for the review:
1. Gaui X5 : 699.99
2. Futaba 9451's: 79.99 x 3
3. Futaba Gy520: 149.99
4. Align DS650: 75.99
5. Gaui Carbon Fiber 500mm blades: Incl. in kit: 59.99
6. Gaui Carbon Fiber Paddles: Incl. in kit: 19.99
7. Gaui 100A ESC: Incl. in kit: 129.99
8. Spektrum AR7600 receiver: 119.99
9. Scorpion 910kv motor: Incl. in kit : 119.99
10. Thunder Power 6s 3800mah 45C Lipo: 199.99
The kit came in the standard large rectangular box and upon opening everything was very nicely compartmentalized and sectioned off .
MAIN FRAME:
The main frame consist of a two carbon fiber frame pieces pairing together for one single stacked frame. Left and right frame sides are different so it does matter which way they go. In between the frames there are two bearing blocks that house your main shaft bearings (upper and lower) as well as mounting points for the three cyclic servos.
The helicopter's control system consist of a 120 degree swash-plate using ECCPM. One thing I noticed is how large the swash-plate is on this model in comparison to other models its size. The landing gear has aluminum skid pipes and is attached to a bottom plate that is double stacked carbon fiber.
All three cyclic servos are mounted for direct connect to the swash-plate so no bell cranks or extra pushrods are needed. The canopy mounts by four canopy post using grommets in canopy. I found the battery tray to be a little to skinny for my liking when mounting the larger 6s packs but it works. Mounting the rest of the electronics is fairly simple however the thin frames do not allow you to mount much inside. I found mounting the receiver inside the frames toward the rear, gyro on top of boom block and ESC on right hand side of the frame was the easiest and best layout.
DRIVE TRAIN:
The Gaui X5 uses a standard main gear/auto gear system with a 7.5:1 gear ratio and is paired with a direct drive torque tube. The main gear is a very nice stout 120t gear and is complimented with a very large and heavy duty auto hub. A smaller 61t gear sits on top of the main gear to drive the torque tube. The scorpion motor mounts nicely, and is mounted on top of the helicopter using 4 fasteners. The motor mount itself is also easily removable. One thing to remember is that you must remove the motor to remove servos and it also may take you a few tries at the gear mesh just right. The kit comes with a 910kv Scorpion motor and a 16T pinion. The motor is very nice and mounted perfectly with the stock pinion as well as the stock motor mount.
TAIL AND BOOM:
The tail on the X5 uses a direct drive torque tube system with a aluminum tail boom. The front gears push into the boom and the rear of the torque tube shaft enters into the rear tail case. Once you push the front of the boom into the two clamping boom block at the rear of the heli you adjust your mesh between the torque tube front gear and drive gear and tighten the two bottom bolts that go into the expanding clamps. The rear of the tail systems entails a nice aluminum tail case that is pinned to the boom. Heavy duty plastic tail grips that house both radial and thrust bearings finish the tail end of the drive system. The stock kit comes with plastic tail blades which I found to perform very well.
ROTOR HEAD:
The Gaui X5 uses a very traditional rotor head system. Washout base includes holes for phasing pins coming from the head block. All washout arms and mixing arms are fully bearing supported as well as flybar cage and carrier. Two sets of dampeners are included in the kit, black ones for sport and mild 3d and red ones for  harder 3d and much stiffer dampening. The materials used in the head seem to be of good quality and slop is at a minimum. The head also has some programming options.
TIPS AND TRICKS:
This section is normally reserved for tips and tricks I find during the build process however this helicopter was a very easy build and VERY straight forward. Most major assemblies were completed straight out of the box such as tail case and main rotor head. I took them all apart to check for grease and locktite and was surprised to see all thrust bearings greased and locktite on all threaded connections. The parts count is surprisingly low and kit build time is minimal.
COMPLETE MODEL SPECS.
Overall Length with Canopy: 1000mm
Flybar Paddle: 64x40x5mm
Main Rotor Diameter: 112omm
Main Rotor Blades: 500-520mm
Overall Height: 343mm
Overall Width: 165mm
Tail Blade Length: 82mm
Tail Rotor Diameter: 235mm
Flying Duration: 4-5 minutes
Total Weight: 1900 grams with all equipment minus battery
Gear Ratio: 16T 7.5:1 : 4.07  2693RPM
FLIGHT TESTING:
Over the course of about 3 weeks I had the opportunity to put around 50 flights on the Gaui in about every flight condition possible. I played around with quite a few different setups and I finally settled on the following. Normal=2500 HS Idle 1=2650 Idle 2=2760. +- 13.5 degrees pitch. I was running Thunder Power 3800mah 45C packs and getting right at 4 min of mild 3D.
The first initial flight with everything at the stock settings made the helicopter more stable than I was expecting. I tried increasing the cyclic throws to get some faster cyclic response but ended up having to take the balls out one hole further on the servo arm to be able to achieve more throw. After fixing the cyclic speed to my liking I found that the helicopter and power system had no problem at all carrying 13.5 degrees pitch and honestly could have taken a lot more. On initial flights no vibrations or abnormal noise occurred, everything was very smooth.
Hovering: The helicopter is surprisingly stable when you want it to be, after trimming the bird out it was almost hands free hovering in all flight modes.
Forward Flight: The X5 really shows that it can fly like the big boys when you start into forward flight. Backwards or forwards the Gaui tracks very very well and is very similar to a .50 without any porpoising or abnormal pulls or drifts.
3D: As my flying limits the amount of 3d abuse I can lay on a helicopter I am still able to push it on certain levels. The X5 is very nimble and fast but only when you want it to be! I absolutely love doing large, fast hurricanes with the X5 as it tracks very true but also has insane power and speed to make it very fun. Flips and rolls were quite axial although not the absolute best I have seen or flown and take some very good collective management to nail them perfect. The tail holds amazing in forwards as well as backwards flight. I tried both the black and red dampeners included in the kit and must say the harder red ones are a significant improvement. The dampeners stiffen the head noticeably and make it a little quicker on cyclic.
After each day at the field I did a thorough post flight inspection and was very happy to see no slop developing or part wearing out prematurely.
As far as crash resistance I will say this helicopter can take a beating. Due to a electronic failure around the end of my testing I watched the X5 do a full positive flip right into the ground. As insanely hard as the crash was the helicopter itself took it very well. I would like to give a special thanks to Jack Burnside at Empire Hobbies for helping get me back into the air quickly to finish the review.
In conclusion I am very happy and pleased with the Gaui X5 and it has become one of my personal favorites due to its great size and power. I look forward to seeing more new products from Gaui in the near future!
Me flying the X5 , starting to feel it out.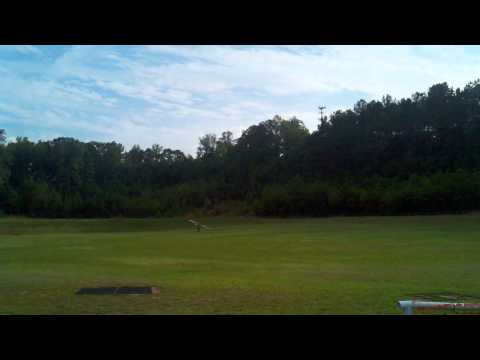 As you all know by now Danny Szabo is a pilot for Gaui and here is a video of him flying the X5.