HobbyKing Daily – YS X4 Navigation System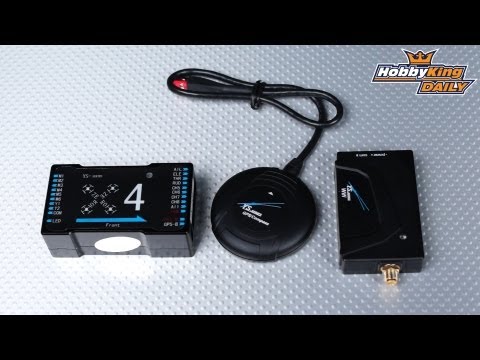 ZeroUAV YS-X4 Autopilot GPS Flight Control System for Multi-Rotor (Navigator Version)
$639.99
Click HERE to place your order for the ZeroUAV YS-X4 Autopilot GPS Flight Control System for Multi-Rotor (Navigator Version).
The Zero UAV YS-X4 is a professional level multi-rotor autopilot flight controller. This is the little brother of the YS-X6, with many of the same features. The main advantage of the X4 over the X6 is that the IMU and Flight Computer are now integrated into a single box, reducing the size and weight of your setup. The enclosure is made from CNC metal and is very strong so it will protect the autopilot should find yourself in a unfortunate situation such as a hard crash. The YS-X4 supports some of the most innovative features when compared to any other autopilot system on the market (many more features than DJI Wookong). All the YS-X4 kits come with a power module/monitor that supplies a regulated supply to the autopilot, and also monitors your battery usage. The power module supports 2S~6S Lipo Batteries.
In addition to supporting most standard PCM and S.BUS receivers, certain features such as "Target Lock and Circle" can also be controlled easily via your Android device (such as mobile phone/tablet) or PC! This makes the system extremely flexible and user friendly. The YS-X4 supports 9 different multi-rotor configurations including Quad/Hexa/Octo and more.
Features:
• Auto Take-off, Return to Home, and Landing
• Target Lock and Circle (can initiate via ground station or R/C transmitter)
• Unlimited Point and Click waypoints (as far as you want and as often as you want)
• Real Time Flight telemetry and status monitor via ground station
• Waypoint Navigation (8 waypoints with no range limitation)
• Fail Safe (Auto Hover -> Go Home -> Auto Land)
• Low Voltage Alert
• Supports Camera Gimbal Stabilization
• Built-in Vibration Damper
• Compatible with Optional S-BUS/PPM Receiver (regular receivers work also)
• Care-free mode
• Follow Me flight mode (will follow your current position wherever you go)
• Intelligent Motor Arm/Disarm features
*Note: For more detailed specs and information, please see the user manual available for download located under the "Files" tab below
Specs:
Multi Rotor Types supported:
Quad-Rotor: +4, x4
Hexa-Rotor: +6, x6,Y6, Rev Y6
Octo-Rotor: +8, x8, V8 (Gimbal is unavailable)
Supported ESC output: 400Hz refresh frequency
Recommended Transmitter: PCM or 2.4GHz with 6 channels at least and Failsafe function available on all channels
Recommended Battery: 3S~6S LiPo
Power Consumption: MAX 2.5W
Operating Temperature: -5°C to +60°C
Ground Control Software Requirement: Android / Windows XP SP3 / Windows 7
Flight Performance:
Hovering position accuracy (GPS mode): Vertical: +/- 1m Horizontal: +/- 2m
Suitable Wind Condition: < 8m/s (17.7mph)
Max Tilt Angle: 35°
Max Ascent/Descent Speed: <6m/s
Included in the box:
Complete Zero UAV YS-X4 Autopilot Flight Controller System (Navigator version)
PRODUCT ID: 383000004
ZeroUAV YS-X4 Autopilot GPS Flight Control System for Multi-Rotor (Wi-Fi Version)
$499.99
Click HERE to place your order for the ZeroUAV YS-X4 Autopilot GPS Flight Control System for Multi-Rotor (Wi-Fi Version).
The Wi-Fi Version has the same Features, Specs, and Flight Performance info as the Navigation Version.
Included in the box:
Complete Zero UAV YS-X4 Autopilot Flight Controller System (Navigator version)
PRODUCT ID: 383000003