Fun for the whole family!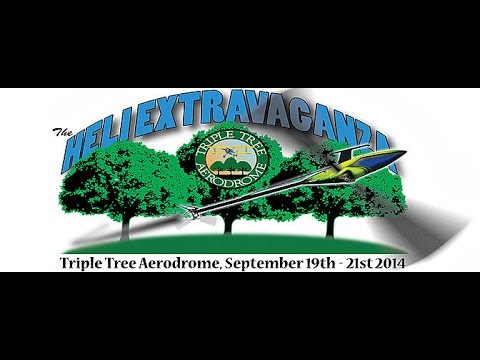 This year at the 2014 Heli Extravaganza was one of the best adventures I've had in a long time. Showing up at the Triple Tree in Woodfuff South Carolina was a warm and comfortable feeling, as the same when I go there for all of the events. Triple Tree is just a beautiful place and this was a beautiful time of year to hold a helicopter event.
Pulling up to the event was like pulling up to Wally World from Vacation, minus the big moose. With open arms and tones of welcomes, hospitality was consistent from the first flight line to the last, this was one of the most laid back, down to earth environments I've been in this year. Just seemed like everyone was on vacation including sponsored pilots, and vendors alike. Everyone was eager to jump in to help, and participate.
This year was a new experience for me being my first time to attending this event. Normally this time of year I attend Eweek also held at Triple Tree within the same couple of weeks, and every year I either want to show up early or stay late for the Extravaganza. Never getting the chance, I decided to change my schedule and make these dates. Good thing I did, I will be showing up every year as I witness it grow to over a 150 registered pilots, and lots to do for the whole family. Top pilots were there including Jamie Robertson, Kyle Stacy, Bert Kammerer, Matt Botos, and other up and coming pilots, all of which taught me a lesson about flying, but are all great people with positive attitudes.
I had my first experience of an FPV obstacle coarse, and Ill tell ya, some of you guys blow my minds how fast you can maneuver through trees and under water bridges. Its amazing to watch 3D helicopters from the sky in another helicopter in a FPV setup. If you haven't tried it, I highly recommend it.
I can talk all day about how much fun I had at the event, but its all about the people and the smiles. Thank you Steve Rogers, and Triple Tree aerodrome for hosting the event, and thank you to all the sponsors that help make it happen. I look forward to meeting new people and pilots next year!! If I had 2 word to say about next years Heli Extravaganza they would be "Go there". It's worth every moment spent.
See you next year!!
Features
Perfect time of year
Triple Tree Aerodrome
Family Fun
HELICOPTERS!
Flying
HELICOPTERS!!
For more information on Heli Extravaganza click here.
For more information on the Triple Tree Aerodrome click here.