New Team Pilot
We look forward to Michael Streit to welcome as the first pilots in our team.
It is the Banshee 700 Limited will present on various air shows and is happy for you questions.
Setup: Kontronik Helijive 120, 700-52 Pyro, 12S, Super Hercules BEC @ 8.4V, 3x MBS HBL 950, 1x MBS HBL 980, range AR7200BX BEASTX
Sponsors: Banshee Helicopters, Kontronik, Rail Blades (helistore.at)
Banshee 700 Limited
"Why do we limit our Banshee 700 to 50 ? We want to offer our customers a worry-free package that meets our standards.
This will include for us:
● intensive customer contact,
● best possible support,
● Repair and Service
● a seamless supply of spare parts.
Each model is equipped with a serial number in order to guarantee the customer a certain exclusivity.
Accordingly compromise is also the whole construction of the Banshee 700 Limited. In addition to extensive 5-axis milling parts, extremely torsion-resistant design and low weight, we only use high-tech materials. Titanium, carbon fiber and aircraft aluminum full-as are all of the helicopter: Made in Germany."
With that news said, here is a cool time lapse build of the Banshee 700 Limited.
Timelaps Banshee 700 Build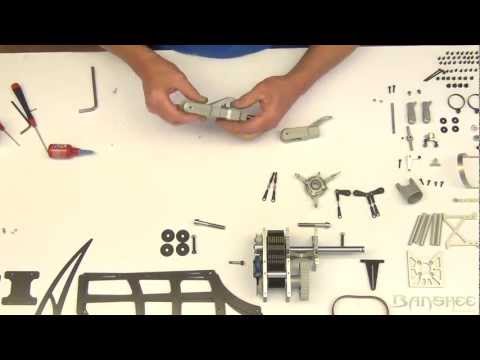 Basic mechanical assembly of the Banshee 700 Limited
Source: Banshee Helicopters