VIBE NEX E8 with MB-351 Assembly Kit w/TAGS01
Overview
There are many advantages on JR Multiple Blade Rotor Head, and particularly notable points are :
Better user-friendliness
The current RC helicopters have been controlled with 2 blades. But adding one more blade, the precision will be 1.5 time more, and naturally the controllability will be drastically improved, more smooth control could be possible.
More efficiency with less RPM
Probably you will have a image of increased rotational resistance by added one more main rotor blade, but keep less RPM makes the helicopter high efficiency, and offered higher fuel (battery) efficiency than 2 rotor blade type.
Very high motion performance
The burden to one blade will be reduced, and make it possible to control the helicopter effectively with less stick control, and as a result, improve the helicopter flying performance.
The above advantage may give you the image that multiple rotor blade head is specialized for 3D and sport flight, but it is very good for scale helicopter, too because it makes possible to feel stable, comfortable and natural flights, and also enable the linearly-extended flight.
Some Characteristics of Vibe NEX E8
The new frame has been designed to allow easy installation of motor, battery and ESC. Your choice of CCPM 120 or 140-degree swash. Includes FRP canopy, painted in three colors.Shaft driven tail with robust tail box and gears to handle the most extreme 3D flying. Highly tunable head design for extreme cyclic response. Each tail rotor grip contains dual radial bearings, plus a thrust bearing – providing smooth and precise operation. Carbon horizontal and vertical tail fins.
Item: 98054
Specifications
Length 1,225mm / 48.23in
Height 413mm / 16.26in
Width 212mm / 8.35in (Landing strut)
Main Rotor Dia. 1,362mm / 53.62in (with 600mm rotor blades)
Tail Rotor Dia. 268mm / 10.56in
Gear Ratio 8.7 : 1 : 4.4
Gross Weight 2,830g / 6.24lb or more (Excluding rotor blades)
Swash type 120/140 CCPM
Also available:
Without TAGS01 – Order Item: 98057
MB-351 with Vibe NEX E8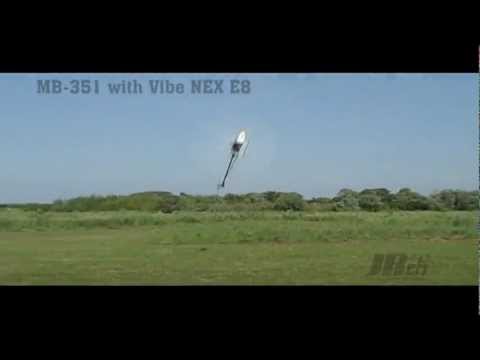 Helicopter: Vibe NEX E8 FBL with MB-351
Main Rotor Blades: Carbon for MB-351
Tail Blades: JR Carbon 105
Motor: Scorpion HK4035-500KV
ESC: KONTRONIK JIVE 80+HV
Battery: 6cell 3,300mAh 65C (2packs)
Gear ratio: 8.7:1:4.4
Propo: XG8 DMSS 2.4GHz Radio System
Gyro: Triple Axis Gyro System TAGS01
Swash Servo: FBL-DS01
Rudder Servo: MP80G
RX: RG831B DMSS 2.4GHz Receiver
Pilot: Hiroki Ito (F3C World Champion)
Source: JR Propo