600 FBL Carbon Main Rotor
(Funtech Fluorescent Rotorblade Series)
List Price ¥12,000
Included: Rotor Spacer, Rotor Collar
Compatible with 600 class (50 size) helicopters
This carbon main rotor is for flybarless. Redesigned for better weight balance, it covers a wide range of flying. From sports flight to 3D.
The fluorescent colors make the flight more enjoyable.
Fun Tech Factory Visit
Funtech factory was founded by the Japanese F3C pilot Mr. Eiji Sensui in 1992.
In this plain-looking building in Chiba, Japan, Funtech has been suppyling the world with top-class Radio Control products with superior Japanese workmanship.
All Funtech products are made exclusively in Japan.
Originally started from canopy & full-body to rotorblades & muffler as the main products, Funtech has come a long way to develop a complete high-quality RC product lining, including the industrial helicopter model Staysee, with all parts made by Funtech.
Currently, Funtech is planning to release the new Staysee III helicopter in 2012 summer. The estimated release date is the end of August, 2012.
Fun Tech Main Body Section
The Funtech Factory is divided into different sections with different focus.
All the main-bodies and the canopies made by Funtech are hand-made and hand-painted by professional workers, who are specialized in this craft for years.
Fun Tech Rotorblade Section
Funtech has about 30 molds for each rotorblade model. This number is outstanding compared to other rotorblade factories.
This allows Funtech to satisfy large order quantities within a short range of time.
Fun Tech Muffler Section
The Funtech Mufflers are well-known in the RC field for its high quality.
The muffler section is lead by Mr. Furuya who was a F3C pilot with extensive knowledge in engines and mufflers.
K&S All-metal Electric Pump HP-2 (KS-PUMP-HP2)
KS-2831
List Price ¥12,000
To be released in mid-July, 2012. Accepting pre-orders!
This HP-2 electric pump has been redesigned from the well-received HP-1 model, aiming to increase the performance..
With a body machined from duralumin, HP-1 is an electric pump with great durability and a sense of luxury. It was acclaimed by many users.
The motor and switch is now completely encapsulated, preventing sparks from escaping.
Now the 4L container can be tightly fastened with the change in the fixing hook design.
The nipple diameter has been increased to reduce the fueling resistance.
You can choose the mounting direction by your preference.
And there is a flat region on the pump body, so it is easier to mount other parts like the batteries.
Please try the safer & handier K&S all-metal electric pump HP-2.
(The picture shows the prototype)
K&S PUMP HP2 TEST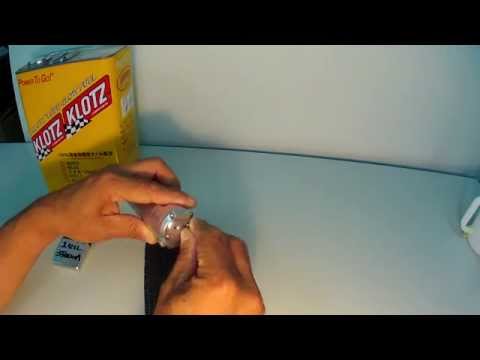 High performance fuel pump・・
K&S HP-2 (for Gasolene ・ RC fuel ・jet fuel )
voltage:3.2V-8.4V
Fluorine Liquid (10ml)
KS-2830
List Price ¥1,260
To be released in mid-July, 2012. Accepting pre-orders!
The quality of this product is the same as the previous K&S fluorine grease products. This liquid type is made easy to use.
Lubricates excellently either with metal or resin.
For applying on the gear, belt or the sliding parts of the electric/gasoline helicopters.
** Some ingredients in ordinary grease may corrode the resin material, which is commonly used in helicopter models.
Please use K&S Fluorine liquid or Fluorine Grease. They do not corrode plastic or rubber material and can be used for multiple purposes.
Source: Polaris Export