Turnigy Fatboy 8 1300W Workstation Charger
$199.99
POWER
Introducing a charger like no other…the Turnigy Fatboy 8 – an ultra powerful 1300W workhorse! So much more than a charger, we had to call it something else, so we chose to label it a "Battery Workstation". Capable of charging, discharging, monitoring or performing multiple cycles on any current or future battery chemistry at alarming speed, Fatboy 8 represents the end of all speculation about who sells the most powerful battery management system in its class for the best value. At price per WATT, it blows the lid off the competition and represents unprecedented VALUE.
SAFETY
Do not be scared off by the claims of this advertisement by thinking this is too much charger for you. This may be the safest, simplest charger you will ever use. That's because safety was the #1 priority when designing this charger. As a result, you can not make a mistake when you use it. It simply will not let you. It knows how many cells are connected by monitoring charge voltage on each cell in the pack individually. It performs an entire series of tests to make sure the battery is hooked up correctly to the charger before it ever even starts to charge, checking for valid voltages on each cell, reverse polarity conditions, reversed node wiring to name a few. It constantly monitors the total pack voltage and compares that to the sum of the individual cells. It can not and will not ever charge a single lithium cell above the proper end-of-charge voltage and assures you of the most accurate, laboratory quality readings at all times. Furthermore, if a pack has been over-discharged, it will automatically enter low-voltage restore mode. It will reduce charge voltage during cold weather to extend battery life; all parameters associated with this feature can be adjusted by the customer. Even though batteries in general, and especially lithium batteries, represent a volatile potential, the Fatboy 8 reduces the risks associated with maintaining any size battery, any chemistry by magnitudes over other brands. Fatboy 8 represents the next phase in the evolution of safety.
RELIABILITY
Take top-notch components capable of handling all of the stresses associated with super-high power, high voltage operation; things like an over-sized heat sink, extra-heavy duty 10AWG input wire, twin cooling fans and a gigantic sendust core toroid inductor to handle higher input current and combine these with stable firmware/software that is thoroughly tested in-house and with outside beta testing, and what you get is a new standard in reliability. We don't like getting chargers back from the field for any reason. That's why we've gone the extra mile on this one.
The Fatboy 8 also features an environmentally friendly, regenerative discharge capability of up to 1300W. Unlike traditional methods of discharge, which deplete the output battery's energy in the form of heat across a transistor, regenerative discharge takes most of that energy and puts it back into the input battery. Regenerative discharge is an optional feature. Turn it on when you need the highest power discharge. Turn it off and use standard internal discharge of up to 100W if you choose.
Specs:
Battery type: Lithium Polymer, Lithium Ion, Lithium Manganese A123, NiCd, NiMH, 6v, 12v, 24v Lead Acid batteries
Pack capacity: 20mAh to 360000mAh
Input voltage: 10-32VDC, reverse polarity protected
Input current: 1A to 60A, software limited
Output battery charge current: Adjustable range 10mA to 40A, limited by 60A input current
Output battery discharge current: Internal discharge 10mA to 10A, 100W max
Regenerative discharge 10mA to 40A, 1344W max
Continuous max output power: 600W @ +12VDC input, 1300W @ +26.35VDC
Cell balancing: Resolution 78uV (16 bit) for 1s-8s Li or A123 (LiFePO4) balanced charging
Cell balancing current: 1A per cell
Voltage calibration: Cell voltage measurements are factory calibrated to a standard traceable to NIST; calibration is to +/- 6 mV
Current calibration: Charge current is factory calibrated on a 4A standard; calibration is to +/- 1mA
Data integrity: Checksum, CRC checking
Cooling fans: Twin, 13 CFM, 50mm diameter
Heat sink: Internal 200W aluminum, thin finned
Output battery connector: JST PA series, 9 position
LCD: 2 line, 16 character, light grey/blue backlit
Size: 148 x 167 x 91mm
Note: Balance board required, sold separately. See related items below. Optional PC interface cable also sold seperatly.
This Turnigy product is manufactured in Singapore by LEO Energy Pte Ltd, Revolectrix.
PRODUCT ID: 9214000001
HobbyKing Daily – Fatboy 8 1300w Charger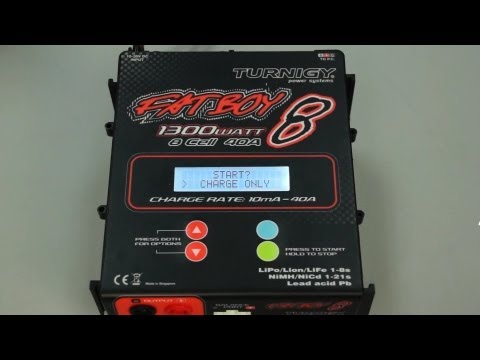 Turnigy Fatboy 8 1300W Workstation Charger
http://www.hobbyking.com/hobbyking/store/__21823__Turnigy_Fatboy_8_1300W_Work…