SKY CAR with onboard cam bashing around at large skate park!!!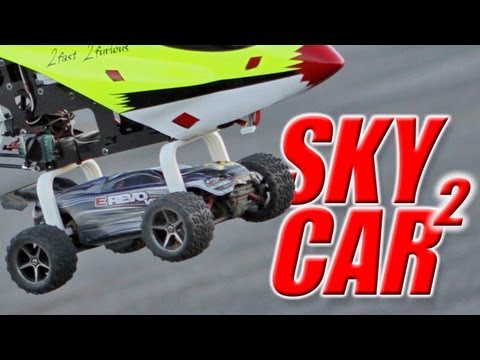 Flying SKY CAR is back – VERY fast!!! With a flying Traxxas E-Revo VXL and onboard cam we go bashing around at the large and famous Factory Skatepark in Dundee/Scotland. Due to stripped differential gears (listen closely, you can hear it!) we had to change to a Tamiya Fighter after about two battery packs. Check out our facebook and web page to learn how it was built (including rapid prototyping techniques), plus read the articles in RC Rotorworld, 3D-Heli-Action and Cars & Details!
Check out SKY CAR driving on underside (!) of Scottish Skye Bridge here:
The Factory Skatepark in Dundee, Scotland. Thanks so much guys!
http://www.factoryskatepark.com/
SUBSCRIBE NOW to NEVER MISS our latest cutting-edge heli stunts:
http://www.youtube.com/subscription_center?add_user=heligraphix
Check out our channel with tons of HIGH-QUALITY content (no waah-waah videos!):
http://www.youtube.com/user/heligraphix
MEET and LIKE us on facebook – know what's going on behind the scenes before everyone else!
http://www.facebook.com/heligraphix
You are a connoisseur? That's greaaat!!! Because here's the best ever playlist for you!
http://www.youtube.com/playlist?list=PL8ADE8CA83AA0A6D8
Not satisfied yet?! We have an insane 10+ year legacy you'll just love here:
http://www.heligraphix.com