Gas Powered Thoughts
History
I first heard about this motor at the same time as everybody else did when a post showed up in the forums earlier this year
In June of this year I had the opportunity to do some testing with the motor. As you know I only fly gas powered helicopters so the only thing I could quickly put together was to "de convert" my Helibug Raptor 90 conversion.
over time I found a way to mount it into a G4 which is a lighter model
There have been multiple prototypes produced and flown by individuals and model helicopter manufacturers. I know both Quest and Century have flown them, based on the earlier videos I assume Hirobo, JR and Align have done testing with them as well.
There have been multiple versions of the motor (at least three), each has made improvements based on inputs resulting in what you see now.
General Details
● it has the footprint of an OS 91 HZ but there are changes to the cylinder head and case to allow for the spark plug and upper rod access
● it uses a Walbro pumped carburetor similar to the one on the Zenoah G20
● operates in a similar RPM range as that of an OS91
● is available with a special OS Powerboost pipe or an OS cast aluminum "canister" type muffler. The smaller canister is reported to reduce the power output slightly. Its also available with no muffler but its not clear what the results are with using another muffler type due to backpressure/heat issues
● the ground shoulder on the front of the crankshaft has the same dimensions as an OS91 so most 700 class fans will bolt on. The large carburetor will require cooling shroud modifications. Because there is a timing ring required, which is below the fan, the engine mount lugs are slotted to allow the motor to mount slightly lower to maintain fan/clutch alignment
● OS EI system has a "straight" plug cap which requires less modification to glow plug opening. It will still need to be opened up for the larger plug
● Does not support the Futaba back plate sensor, I don't know if others will work. Since it uses a std fan though the typical magnet/sensor setup can be used to signal a governor.
● it requires a fairly high oil ratio, 25:1 however it doesn't spit significant oil or smoke. So far I've used Klotz and Honda HP2 with good results. I have only run it with gasoline at this point
● internally the connecting rod, piston and crankshaft at minimum are unique to this motor
● pricing – I have no idea. Based on the price that OS originally posted which was listed in Yen and the current conversion rate, it could be expensive
Operational Details
So on to how it runs.
● It sounds a great deal like a glow motor. the pitch is slightly different but similar
● its a 15cc motor running on gasoline. Gasoline does not have the same power content as alcohol especially when it contains something oxygen rich like nitoromethane. The smallest gasoline motor typically used on model helicopters is 20cc in the 600 class models and 26-30cc is more whats typically used in the 700 class models.
● Because this motor has the footprint of a .91, it will more or less bolt into many of the 700 class helicopters made. However it won't easily bolt into most 600 class helicopters without significant modifications beyond what an average modeler can accomplish without special equipment.
● the result is OS has targeted this motor at sport pilots for 700 class helicopters. I suspect we'll see some 600 class designs come out or perhaps a conversion for it at some point where the power/weight ratio will be different.
● in general though it runs quite well and uses very little fuel, something on the order of about 1/2 oz per minute which is about half what a larger gas motor uses and about 1/8th of what its glow fuel counterpart uses.
Flying
so enough from me. I'm sure you want to see more video of the motor flying the G4.
Bobby Watts who you know is a master pilot for Gaui is also a team pilot for OS motors so he was good enough to take a turn at my G4.
This was a five minute continuous flight, there are two edits in it. For those of you who are conspiracy theorists who believe the motor will only run for a couple of minutes, the edits are because I lost camera focus on the model not because of any issue with the way it runs or was flying. Not much point in showing a blurry mess.
the video quality leaves something to be desired, the next one will be better.
GT15HZ Initial Flying video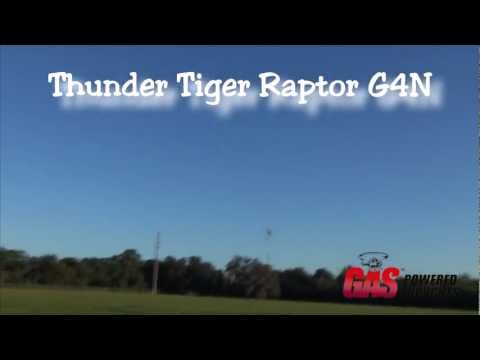 OS Max GT15HZ mounted in TT Raptor G4 with Powerboost pipe
The Bottom Line
If you read my earlier OPINION as to whether or not I thought this would work, you'll know I've been skeptical. It does work a lot better than I thought it would.
if you want to do sport flying in a 700 helicopter, I think it will work okay for you. Remember it won't bolt directly into your helicopter with no modifications, there is some work to be done.
If you want to do hard smack 3D, it needs to go in a smaller helicopter. I know at least one manufacturer is investigating that.