If you are a sound sleeper you might be interested in this heli inspired gadget to rattle you from a deep slumber. When the alarm on the Flying Alarm Clock sounds (and trust us, you'll hear it!), the propeller launches into the air and flies around the room. The sound cannot be stopped until you retrieve the propeller and return it to the base station.
So, if it's difficult for you or someone you know to wake up in the morning, this flying alarm clock for you. Simple to set and effective in waking you up, the Flying Alarm Clock may be the most annoying alarm clock you'll ever own. Click for details and product video.
Features & specs:
Digital alarm clock
Backlit display
Snooze function
Requires 4 AA batteries (not included)
Alarm sounds like an airplane taking off and landing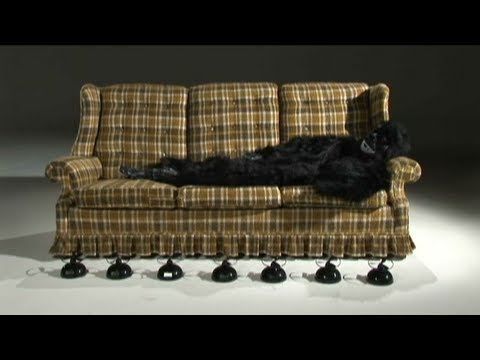 Return the propeller to the base station to turn off the flying alarm clock
The concept is simple: create an alarm with an annoying sound (think German occupation in WWII) and add a propeller to the top. When the alarm sounds, the propeller flies off and bounces around the room. The annoying alarm sound doesn't stop until you return the propeller to the clock's base station. And voila! The Flying Alarm Clock was created.
Easy-to-read backlit display
Simply push down on the top of the propeller to activate the flying alarm clock's backlit display.
Simple operation
With only five buttons, you'll find the Flying Alarm Clock a breeze (get it, breeze) to use. In fact, one of the button is a 'Demo' button so you can show your friends the coolness of the Flying Alarm Clock.  So, really, there are only four buttons used to operate the alarm.  It's really quite simple to use.
Frequently Asked Questions
Question: Do I really have to put the propeller back into the stand?
Answer: Yes! Pressing the top with your finger will not silence the Flying Alarm Clock. Fooling with any of the controls does not turn it off. The only other way to turn it off is to remove the batteries. So, if you think it's easier to unscrew the battery compartment than to get up and find the propeller, go for it. However, we think you'll be awake at that point, anyway.
Question: Will the propeller damage my bedroom?
Answer: No, the Flying Alarm Clock's propeller is plastic and flexible.
Question: How high / far will the propeller go?
Answer: The Flying Clock's propeller launches approximately 8 feet into the air. It has a very unpredictable flight path.
Question: How many Flying Alarm Clocks does it take to wake up a gorilla?
Answer: Watch our Flying Alarm Clock video to find out.
Slip over to Vat19.com and pick one up!
Sources: Vat19.com, vat19com via YouTube