SAB Goblin 700E – Review – 10/28/12
I recently attended the HeliFreak funfly in California. It was a great event. Good weather, a great bunch of people and Goblins everywhere! I had the opportunity to try three different Goblins at the event, including Bert Kammerer's! Each time I flew it, I got a little more addicted to the uniquely powerful sound and performance. The machine was a blast. It was extremely different in design and there is nothing else on the market like it. So when I got back to my home town I started builiding one!
The kit was amazing. The attention to detail was top notch. Every part and screw in the kit was labeled and placed in very specific bags to match the instructions. Yes, even a cave man could build it! There were no parts missing. The CNC quality was great.
I used the following equipment: ProTek 250T servos on cyclic (New from A Main Hobbies), a Castle 120HV speed control, a 7200BX flybarless receiver, Edge 693 Flybar blades, a Scorpion Ultimate 520KV motor and (2) 6S Thunder Power 65C 5000 packs for power. I also ran a 2s 1800Mah pack direct to the receiver.
My kit included the latest upgrades including a 21T pulley for the motor, the new ball bearing one way and the new steel 20t drive pinion.
The build went quickly. The head and tail components were pre-built (always check for loc-tite & bolt tightness). The frames had a small number of screws and the tail boom was semi-completed as well. The belt tensions are easy to set and maintain. This is a great link to Bert Kammerer's tips video.
I decided to run 2200 head speed in my Idle 2 setting and put 15% expo on cyclic and 10% on tail.
So off I went to the field. The helicopter performed exceptionally well. It tracks very straight, it is very predictable, it smacks well and does precise maneuvers accurately. It is a lot of fun! It was so much fun, that I did 9 flights with it in one day!
The kit retails for $999.99 and includes tail and main blades. It does not include any electronics. Please click this link for more details from A Main Hobbies.
Please see my video section for my flight with the Goblin 700E and my photo gallery for some pics.
Frank Columbia – SAB Goblin – 10/28/12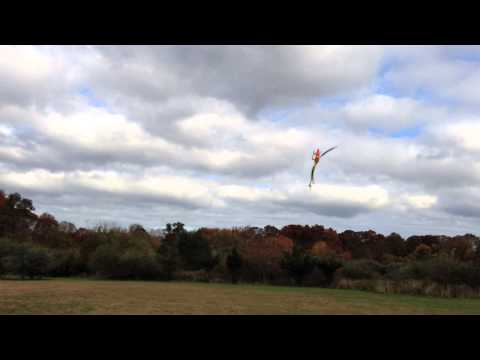 This is a test flight on my new SAB Goblin.
Source: Frank Columbia