This is awesome to see the ladies out on the flight line putting on a great show for the crowd. The females picking up a transmitter and flying is definitely growing in the rc helicopter industry. Check out three of the ladies wow the crowd. Enjoy the vid shared by Simone Zunterer. Thank you very much Simone.
Simone Zunterer – HeliMasters Venlo (Saturday)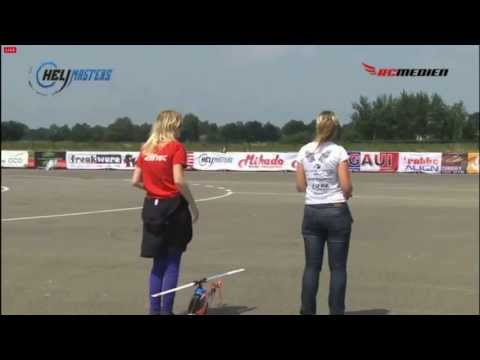 Simone flies her Raptor E820 together with Raquel Bellot and Rachel Plant in a special Girls Demo on the HeliMasters 2013 in Venlo.
Please visit the official website of HeliMasters: www.heli-masters.com
For more infos about me and my helis, please visit: www.firstlady1985.jimdo.com/english
Simone fliegt den Raptor E820 in einem speziellen Mädels-DemoSlot, zusammen mit Raquel Bellot und Rachel Plant auf den HeliMasters 2013 in Venlo.
Besucht doch bitte die offizielle HeliMasters Seite: www.heli-masters.com
Für mehr Infos über mich und meine Modelle: www.firstlady1985.jimdo.com