Bert Kammerer – Goblin 630 Demo Flight – 2012 Orlando Helicopter Blowout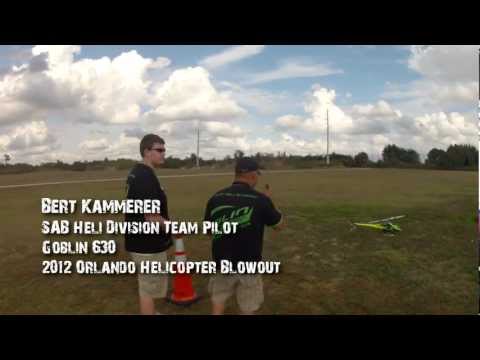 This is SAB Heli Division Team Pilot Bert "Old School" Kammerer flying the SAB Goblin 630 with a special "Terror" canopy paint scheme during the Saturday mid-day demos at the 2012 Orlando Helicopter Blowout.
This flight is especially notable due to how hard Bert dug the tail into the ground during his flight and then continued flying. I think that after this performance we need to start calling Bert "The Big Show"!
Bert Kammerer has been flying RC helicopters for a number of years and has several related accolades. He's also the co-owner and co-founder of the successful RC helicopter instructional video series, SmackTalkRC. Bert is also the creator and founder of the RC helicopter fun fly event, The Orlando Helicopter Blowout. For more information on Bert please visit his website: www.bertrc.com and www.smacktalkrc.com