If scale helicopters are your thing then there is no better place than Dalton, GA in the fall!   The 11th annual Southern Scale Helicopter challenge was held from September 15th through the 18th in Dalton, Georgia.  RC HeliResource review editor Andrew Griffith attended this awesome event and has provided photographs and videos of an interesting aspect of our sport for your viewing pleasure.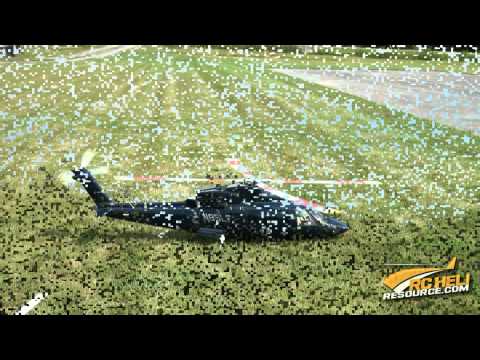 The 11th annual Southern Scale Helicopter Challenge took place at the Dalton RC Flyers club field in northern GA near the Tennessee border.  AMA Nationals scale helicopter champion from 2011 Darrell Sprayberry hosted the event which drew 28 registered pilots and more than 60 scale helicopters.  Pilots traveled from Pennsylvania,  Florida, Alabama, Louisiana, Tennessee, and even as far away as Massachusetts.
If you were ever interested in learning how to compete in AMA 518 scale helicopters, this was the place to meet the people and learn.  The Southern Scale Helicopter challenge not only featured the fist place winner at the nats (Darrell)  but the rest of the top 3 finishers (Stan Kopreski 2nd, and Eric Babinaux 3rd place) at this years nationals plus 2010 national champion Butch Wellmaker.  Gifted scale modeler and scale nationals judge Sandy Jaffe was heard several times detailing what he looks for in static judging and how he judges the required and optional maneuvers during the flight rounds.
The weather during the week leading up to the event was marginal but Saturday dawned with blue skies, light winds, and temperatures in the mid 70's.  If there was ever a standard by which event weather should be judged, Saturday in Dalton was it!
The weather was nothing compared to the amazing helicopters!  Scale helicopters filled the tables, tents, and truck beds from one end of the flight line to the other.  Sizes ranged from 450 and 500 size Trex models to the monster sized menacing looking Vario Mil Mi-24 Hind brought by Joe Howard of East Coast Scale Helicopters.
Electric helicopters seemed to be the ruling class now in the scale helicopter arena.  There's a lot of advantages not the least of which is not having to worry about heat shielding and fuel proof paint.  Scale helicopters are also easy on batteries and power systems.  My Vario Jet Ranger has a Castle HV85 speed controller but only pulls 26 amps at spool up and 22 amps in flight, my 10S (2 x 5S) 5000mah packs fly 8 minutes and I only put back about 45 to 50 percent of the packs capacity.
To further add to the cool factor of electric helicopters, the centrifugal clutch system used in gassers and nitros is finding it's way into more and more scale electric helicopters.  The slow spool up of Russell Stockhausen's clutch equipped Indy Helis Apache is extremely scale like.  The sound of the motor starting and then the blades slowly catching and spinning up is nearly impossible to capture with a standard setup even with the slow start option available in several speed controllers.
There were two turbine powered models present and both commanded everyones attention when the start button was pressed.
Joe Howard brought the aforementioned Mil Mi-24 Hind.  This only had a few flights on it prior to the event so he was taking it easy but it still brought the entire flight line to a halt when he took it out to fly.  The Hind has a 2.5 meter rotor span and 2.6 meter fuselage.  A quick conversion for my metricly challenged American friends means that's a rotor span of over 8 feet and a fuselage length of 8 1/2 feet!  I think my first car was smaller than the Mil.
The other turbine at the event was the ultra detailed Westland Sea King built and flown by Peter Wales of Orlando, Fl.  Every time I look over this helicopter I see another detail that I missed before.  It features both a five blade head and a five blade tail rotor and is equipped metal main rotor blades.  Peter says that the blades are balanced within 1/10th of a gram and doesn't label them so that they go back on the correct grip each time because it doesn't matter.  The Sea King is also running a new LED scale lighting kit that is clearly visible even in bright sunlight.  Impressive barely does this model justice and its presence in the air is simply stunning.
While they are clearly becoming the minority, there were a few gassers present.  Sandy Jaffe from State College, PA had a Vario R-22 that had a bright yellow scheme that, unlike the Apache, was very easy to see in the air even against the trees.  Unfortunately he spent most of his flight time tinkering with an engine tuning issue.  Eric Babineaux from Lafayette, LA brought a Robinson R-22 along with the helicopter he flew to third place in the Nationals, a Hughes 500.  Eric's 500 looks great with a 5 blade head and the smooth classic lines of the original canopy looked great in the air.
There were a few nitro helicopters present and one really caught my attention.  Richard Schultz from Melbourne, Fl was flying a Coast Guard Augusta A-109 low and fast.  I thought he was going to have a serious mishap when one of the gear started to fold back on the runway but depsite the blades scraping the concrete the damage amounted to nothing more than a few scratches on the blades.
I thoroughly enjoyed my trip to Dalton, GA this year to the Southern Scale Helicopter Challenge and I hope you enjoy the videos as much as I enjoyed taking them.
Andy