Here is a crazy vid from the crazy HeliGraphix Team. This stunt tops pretty much everything the HeliGraphix Team has done so far. You have to watch the vid to get an idea of the planning it took to pull off this crazy stunt off.
WORLD'S 1st: Heli piloted from ONBOARD airplane!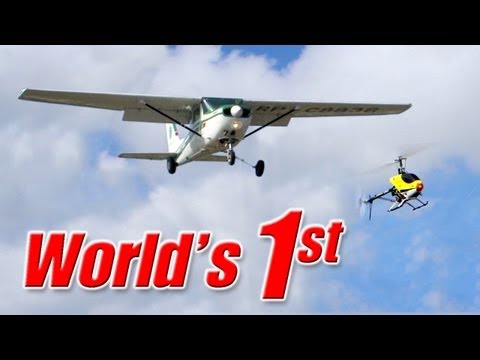 FIRST TIME EVER: R/C heli piloted from onboard fullsize airplane! Stunt performed on the PHILIPPINES. Flying start and landing of helicopter! Master logistics, outstanding airmanship and one of the biggest HeliGraphix Missions to date. More details on our website and in RC-Heli-Action (German) and RC Rotorworld (English) magazines. PLEASE RATE AND COMMENT IF YOU LIKE!
Source: heligraphix